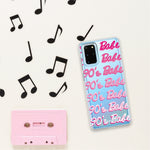 Spice up your phone with our new 90's nostalgia inspired phone case/phone accessories collection!💘
Calling all 90's babies we have the perfect cases for you! 
Keep the 90's vibes strong with our 90's vibes case, featuring some items that the 90's kids couldn't live without.
The '90s brought us some of the most iconic pop stars, ranging from the Spice Girls to Britney Spears! Show off your love of cheesy 90's pop with our Smash Hits case!