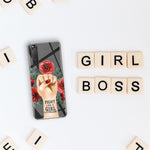 Celebrating women empowerment with every case!💖
This year LoveCases has decided to make a badass Girl Power collection to help celebrate International Women's Day - this collection is full of good vibes and positive energy! 
Show some support for your local girl gang with our 'Women Are Power' and our 'Girl Support Girls' case!
This is for all the boss babes fighting for women's rights and equality, we see you and support you always!💖 "We Fight Back" & "Fight Like A Girl" 
"Here's to strong women, may we know them, may we be them, may we raise them."
We have also shown our support for all the hard working Mothers out there with our "Super Mum" & "Who Runs The World" case.